Alfa Romeo 4C Boost Pressure Hose by SILA Concepts - Black
Product Information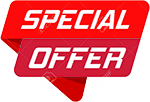 $149.99
Drive now, Pay later!
Make monthly payments with no hidden fees!
Learn More
Upgrade your stock rubber boost pressure Hose with this High Quality Silicone Boost Pressure Hose from SILA Concepts.
Once you begin increasing the power on your Alfa 4C the stock rubber boost pressure hose can begin to breakdown and start to leak. Upgrade the unreliable rubber boost pressure hose to this High Quality Silicone Hose designed to handle higher boost pressures. This hose is designed to handle substantially more power and is designed to be direct replacement for the factory hose.
Features:
Designed for Higher Boost Pressure
Direct Replacement Hose
Durable 5 Ply Silicone Construction
Designed to resist cracking
Retains flexibility in all normal driving temperature conditions
Reduces cold weather leaks
Greater flexibility and strength
Includes 2 Stainless Steel Hose Clamps
Able to withstand higher engine and ambient temperatures
Designed to resist cuts and abrasions from road debris