smart fortwo Ignition Coil Pack Set - 451 model - Power+ - High Performance
Product Information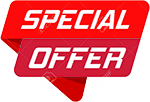 $169.99
Drive now, Pay later!
Make monthly payments with no hidden fees!
Learn More
Replace your factory ignition coils with this High Performance Ignition Coil Set from SILA Concepts!
The Power+ High Performance Ignition Coils from SILA Concepts offer improved performance over the factory stock coils.
We recommend upgrading to High Performance Ignition Coils if it is time to replace your older stock coils or if you have upgraded the power of your smart 451.
We have extensively tested these coils on our own fleet of modified test vehicles with positive results. We also use these same coils on some of our own vehicles and install them on premises.
Features:
Designed for the smart 451
Direct Replacement Parts

Set of 3 Ignition Coils
Higher voltage and improved spark
Reduces misfires
Improved Performance
Improves Idle and Cold Start
Thicker Gauge Wire for increased spark
Exceeds OEM Specifications
Full 3 Year Warranty