Intake Replacement Filter - SILA Concepts - 54mm/ 2.125in
Product Information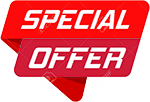 $64.99
Drive now, Pay later!
Make monthly payments with no hidden fees!
Learn More
Time to upgrade the filter in your intake?
This filter is designed to be used with most intakes on the market that have a 2" opening. The filter has an opening of 54mm / 2.125" and will fit over a 2" tube. If your intake has a filter that is similar in size this is a great upgrade.
These SILA Concepts Direct Induction Conical Air Filters are manufactured to be resistant to both engine stress and heat without suffering from deformations caused by the high temperature. The special filtration mesh allows a high level of filtration along with excellent airflow.

Features:
Designed to work with most intakes that have a 2" opening
Filter has an opening of 54mm/ 2.15"
High Quality Construction
Excellent Airflow and Filtration
Pre Oiled using top quality oil
Lifetime Warranty