Dodge Hornet Lug Bolt Set - Set of 20 - M12x1.25 - 60° Cone Seat - Black
Product Information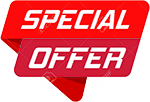 $44.99
Drive now, Pay later!
Make monthly payments with no hidden fees!
Learn More
Upgraded the wheels on your Dodge Hornet and need some new Black Wheel Bolts or simply want to replace your stock ones?

This Lug Bolt Set is specifically designed for wheels with 60° cone seats. This set includes all of the Lug Bolts you will need for upgrading your wheels.

Each bolt is Zinc Coated according to the OEM requirements and are resistant to acid wheel cleaners. All bolts are then covered with a sealing treatment for easier application.


Features:
Set of 20 Lug Bolts
M12x1.25
Class 10.9
Thread Length: 28mm
60° Cone Seat
Cold Forged and Heat Treated making them stronger and more durable
White Zinc Coated and sealed to help protect from corrosion
NOTE: These wheel bolts have a 6mm longer threaded length when compared to the OEM bolts. The increased length does not impact their ability to be installed.