FIAT 500 Front Mount Intercooler - 1.4L Multi Air Turbo - Bar + Plate Design - SILA - Factory Blem
Product Information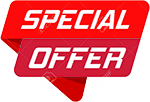 $549.99
Drive now, Pay later!
Make monthly payments with no hidden fees!
Learn More
This intercooler is great, well proven upgrade for your 1.4L Multi Air Turbocharged FIAT 500 that won't break the bank!
Get a great deal on this intercooler! Our manufacturer made an error which is an easy fix.

A portion of our latest batch was delivered with a misaligned bracket. When installing the unit you will need to drill a new hole (pictured) in order to align the unit properly when installing. The unit will function normal and will hold in place without any issues. When installing you will notice that the driver side bracket will not line up with the factory bolts. You will need to align the intercooler correctly and simply drill a new hole (one will be enough). This will allow you to install the unit properly. Once the bumper is back on this modification will not be visible. So, if you are willing to do a small modification this is a great way to save some money!
This SILA Concepts Front Mount Intercooler (FMIC) has many features that make it one of the best values available when it comes time to choose an upgraded intercooler.

This intercooler features a Bar and Plate Design which allows for more direct airflow over the factory dual intercooler setup. The Bar and Plate Design is preferred by many over the tube and fin design due to cooling ability and better durability and resistance to being damaged by road debris. The unique design of this intercooler allows for the reduction of temperatures, increased performance and reduced weight (approximately 5 lbs when compared to the stock set up).

Better airflow and performance was accomplished by increasing the surface area of the intercooler and reducing the ducting the factory system utilizes. This resulted in lower inlet air temperatures and increased performance with a reduction in heat soak of the turbo when putting the car through its paces.

This intercooler was designed specifically for the 1.4L Multi Air FIAT 500 Turbo Engine. When comparing units be sure to look at detailed pictures to get a better understanding of the differences. This unit is designed to bolt up without any issues or modifications because it was specifically designed for the application, rather then modified to work. Hoses were molded to fit exactly and provide smooth airflow without any interruption of airflow/ turbulence that can be caused by sharp turn, couplers and transitions that are not smooth. The unit was designed with the goal of eliminating as many joints/ transitions as possible to eliminate the chance of boost leaks. This unit does not use couplers or adapters that are found on some other units that can contribute to boost leaks.
Benefits:
Direct bolt on design
Simple and direct installation
No modifications needed of any kind
One of the easiest intercoolers to install
Better performance from your turbocharged FIAT 500
Less weight then the factory set up - approximately a 5 lbs savings over stock
Quicker turbo response
Increased surface area for better cooling
Bar and Plate Design
Charge air entry sits flush with core allowing for cleaner entry
Fits:
All FIAT 500 ABARTH Models
All FIAT 500 Turbo Models
All FIAT 500 Turbo Pop/ Lounge Models from 2018 - on
Features:
Aluminum Construction
Bar & Plate Design

High Quality 4 Ply Silicone Hose
Stainless Steel Hose Clamps
This is a direct bolt on conversion that requires no permanent modifications of any kind. If you are installing this on the EU Version of the FIAT 500 ABARTH you will need to do small modifications when mounting the unit.

This listing is for a factory blem which is being sold at a discount. The unit will require minor modifications to make it properly fit (described above).
All sales final on this item.