Jeep Renegade 1.4L Diverter Valve + Blow off Adaptor Plate Package
Product Information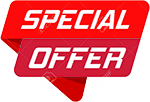 $199.99
Drive now, Pay later!
Make monthly payments with no hidden fees!
Learn More
Bundle and save!
This package provides you with both the Go Fast Bits Diverter Valve and the SILA Concepts Blow off Adapter Plate!
The Blow off Adapter Plate by SILA Concepts is designed for the Jeep Renegade. This Blow Off style adaptor plate is designed to work in combination with the Go Fast Bits Diverter Valve which will generate the "whoosh" or dumping noise.
The Diverter Valve by Go Fast Bits for the Jeep Renagade offers a direct-fit performance solution for the weaker factory diverter valves used.
This kit contains:
GFB Diverter Valve
SILA Concepts Blow off Adapter Plate
Extended length bolts included for proper installation
Fits all Jeep Renegade 1.4L Models